SAAS - Self Managed Help Center
Profit analytics tells you how your products perform!

The algorithm imports data from Amazon's report in order to display them in the Sales and advertising section.
A few things to know for analysis :
Metrics that increase your profit are above the abscissa
Metrics that decrease your profit are below the abscissa
The profit line is the difference between your sales and all the costs.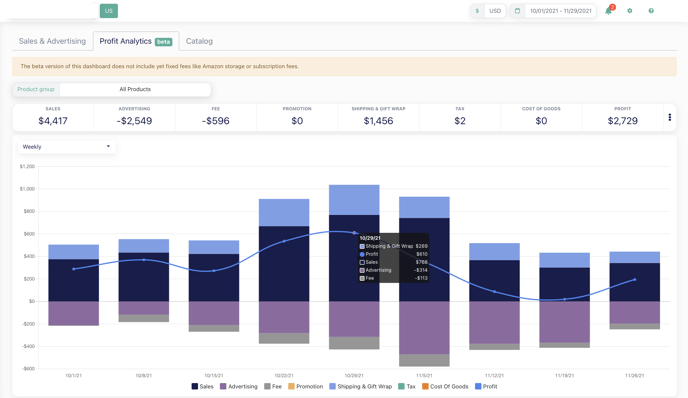 What you can do
Compare your product within a product group
Filter products by product group
Compare many metrics at the same time. Beware of the cost of goods formula.
Aggregate by dates (days, weeks, months)
Compare data to the previous period
Deep down into a product's metrics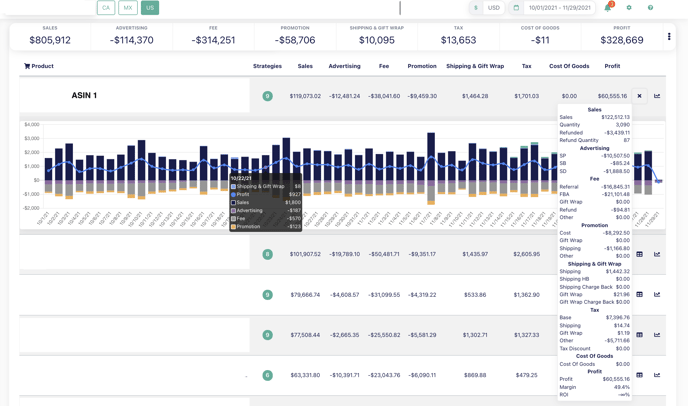 Our recommendations
If you have no product group: Compare how your products perform and create product groups of similar products based on their performance. For example, if you have a few products that are similar in terms of margin and ACOS, you can wrap them in a product group

If you already have product groups: Compare how products perform within each product group in order to ensure they belong to the same product group

Add a cost of goods in the catalogue for each of your products